Messages

24,231
Reaction score

3,787
Points

108
Location
The last house standing »
From I report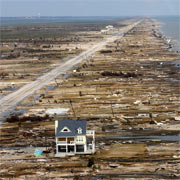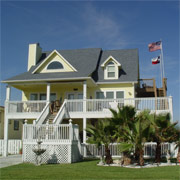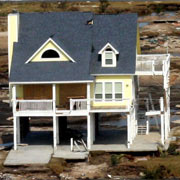 Yesterday, we received an amazing submission from iReport.com user austinheli. His photos showed
a lone house standing in a wasteland
left in Ike's aftermath.
We contacted
austinheli
, who is Ray Asgar, a private helicopter pilot based in Austin, Texas. He visited Gilchrist and Galveston Monday to photograph the damage left after Hurricane Ike slammed the coastal area last weekend.
The lone yellow house caught Asgar's attention. He said it was the only structure standing for miles. Considering the extent of Ike's devastation, he said, it was "odd to have nearly any damage to one home."
Several users
left comments on Asgar's iReport
, joining a debate about whether or not his photos were real. One user who jumped in was Kelley1. "This is my sister's house. It is real," she wrote.
Shortly afterward, Kelley1 uploaded
a photo of the yellow house
that was taken in May.
Kelley1
is Judy Hudspeth and the house belongs to her sister, Pam Adams.
Pam and Warren Adams rebuilt their home in February 2006 after Hurricane Rita destroyed it the previous year. Hudspeth said that the couple hired a contractor to build a home that could withstand a Category 5 hurricane. Warren Adams watched over every step of the construction to make sure it was done correctly.
The couple evacuated to a friend's house in Lufkin, Texas, hours before Ike made landfall last week. Hudspeth said they've been without power since Saturday, and that her sister was "hysterical" when she initially heard everything was gone in Gilchrist.
Pam and Warren have since learned that their house is one of the few in the area to survive the storm. They are returning to see the devastating damage today.