Messages

30
Reaction score

1
Points

8
The Three major oldest civilizations in the world are Egypt, Sumer, and the Indus Valley. The latter lasted until 1500 BC.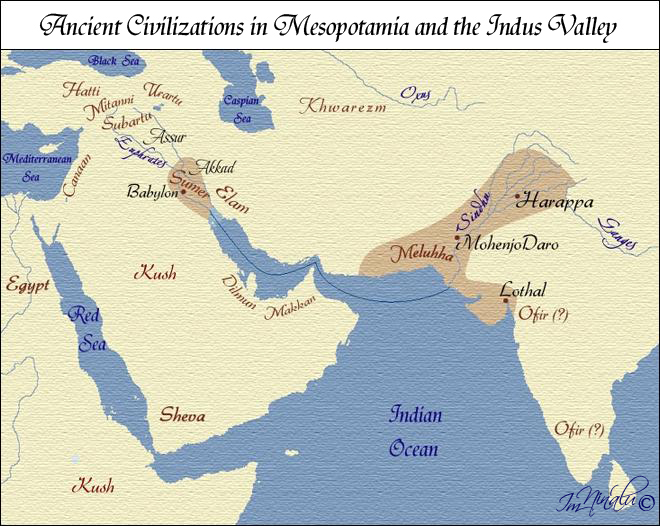 Scholars most usually say that the language was Dravidian and that the Aryans did not arrive until 2200-1500 BC, while its climax was in 2700-2400 BC. Until scholars do DNA tests on lots of skeletons I think this question will not be solved for the scholars collectively and we won't have a single definite answer as to what their ethnicity and language group were.
Based on the theory that the language was Dravidian, some attempts have been made to decipher the Harappan writings, but those writings are also a mystery. I think that to solve it we will have to begin with the DNA tests and work from there, based on the language.
This brings us to our next question - of religion. We can see that Hinduism is a mix of Indo-European figures like Indra and local deities, probably including Krishna. Hinduism has changed over 3000 years+, with some deities getting less attention, like Dyaus Pita.
So based on our knowledge of archeaology and with support from Hinduism, can we say reliably who the gods of the Indus civilization were?

Robert Speer writes in The Handbook of Tibetan Buddhist Symbols
about a
Shiva Pashupati seal
found from the Harappans with Shiva and deer, and about
the wheel symbol referring to the sun
:
"The wheel is an early Indian solar symbol of sovereignty, protection, and creation. As a solar symbol [the wheel] first appears on clay seals unearthed from the Harappan civilization of the Indus valley [circa 2500 BC]... The origin of the wheel and deer emblem probably predates Buddhism, as both the insignia of the wheel and the motif of two deer flanking the deity Shiva Pashupati have been found on clay seals unearthed from the ancient Indus valley civilization.... These ancient seals of Shiva as Pashupatinath, the "Lord of the Animals", probably form a link between early Shaivism and the first disciples of the Buddha."
However, I don't know of any Shiva seal with deer. I only know of a Shiva Pashupati-like seal from there and also a Celtic seal from Europe that resembles it with a deer:
I did find a separate image of a deity fighting two tigers beneath a wheel symbol, which brings to mind for me the image of the sun in the sky:

A website by Swami Nathan claims about this image:
However, the figure in the seal looks a bit like a woman with a breast and a big puff of hair, so
I am skeptical that it is Indra. And I'm skeptical that it's a "chakra", because it looks like a Dharma wheel instead.
The same author says:
TIGER GODDESS


Photoconvex moulded tablet in Harappa museum shows a female figure fighting two tigers standing above an elephant ( I have interpreted this as Indra on Irawatha or Bharata who played with lions even when he was young. A chakra sign on top of the head may denote Indra's name=chakra or Bharata= Eka Chakratipati).

https://tamilandvedas.com/2012/08/22/tiger-goddess-of-indus-valley/
So this author basically undermines his claim that it's Indra by saying that it's a "female figure" that he calls a "tiger goddess".
Here is what seems to me to be another Indus tablet with a different heading on the same story of a figure fighting two tigers:
Swami Nathan writes more on the theme of a tiger-fighting goddess here:

This square seal depicts a tiger looking back a human figure on a tree. The person with hair tied in double bun style holds the tree with one hand and makes some gestures to the tiger with the other hand.




On another seal a mythical female figure half human half tiger is portrayed .This seal is in national Museum ,New Delhi. A seal depicting a man holding a tiger was also found at Mohenja-daro. It is in Delhi Museum. The man fighting or holding the tiger is not an ordinary human being. It looks like a devil with horns. What is puzzling is that there is not even a close resemblance to any of these scenes in our mythology. But villagers have got many stories about tiger gods or tiger angels in different parts of India.

https://tamilandvedas.com/2012/08/22/tiger-goddess-of-indus-valley/
He proposes these analogies in Hinduism for the tiger seals:
Kollong and Ullatar tribes of Kerala consider tiger as the son of goddess Parasakthi.
Lord Ayyappa (Sabarimalai in Kerala, India) rides a tiger.
Hindu goddess Durga/Kali rides a tiger or lion.
Patanjali (Pulikkal Munivar) Human with legs of a tiger.
Shiva wears a tiger skin. Mahabharata very often uses the epithet "tiger among men".
He then shows a modern Hindu drawing of the goddess Durga riding a tiger.

Another website called "Indus Script code deciphered" does show what looks more like a Chakra sign from an Indus valley seal:
Chakra Peetam and Aadi Thapasu

There is a chakra symbol inside a square (grapheme on the right side, corner, bottom of the seal). ... at present it is assumed that this chakra inside square is different from simple independent chakra of Indra. This chakra within square may be indicating 'Shakthisthal' as narrated below.

There is a circular hole in front of the Sanctum Sanctorum of the Goddess with a design of Sri Chakra inside it. There is a popular belief that any one afflicted with mental disorder worships the deity sitting on the hole will be cured of the disease.

"Aadi Thapasu"is one of the important festivals of Gomathi amman celebrated in the Tamil month of Aadi in a grand scale. The story on this: Sri Gomathi Ambal did Thapas at Punnai kshetra and Lord Shiva gave Her darshan as Sankaranarayanaswamy on the Uthirada day in the month of Adi (June–August) and thereby indicating that God Shiva and God Vishnu are same. Further to prove this theory, it is also said that Sankaranarayanasami gave darshan to Sankan and Padman. It is in practice to make the psychiatric patients, or those suffering from diseases and persons believed to have been haunted by evil spirits, to sit on Sri Chakra peetam, in front of Goddess Gomathi Amman continuously for 40 days so that they could be cured.

Maavilakku(offering made of rice) is an important offering to this amman. Those who to come visit this temple also offer miniatures of snake, scorpion and other reptiles to get rid of curses.
When it talks about the Sanctum of the Goddess, I think it might mean the goddess Amman. But I am not sure what the circular hole is that this passage is referring to. I am not even sure that it's a chakra symbol in the lower right of the tablet in the picture. It looks more to me like a Dharma wheel with a flower symbol of petals on the outer rim of the wheel.
These are Chakras:
SOURCE:
http://www.kacha-stones.com/chakras.htm


Stephen Knapp claims in "The Power of the Dharma: An Introduction to Hinduism and Vedic Culture" that
"Statiues of Rishabha, the firsth Thirthankara and founder of Jainism, were found in Mohenjadaro and Harappa excavations. " But I think he could be mistaken, because I heard that some Jains were guessing that the image that looked like Shiva Pashupati from the Harappan findings was Rishabha.

So what do you think about who the gods were of the Harappan civilization?

Do you think that concepts like Om, the Chakra, the Swastika, and the Dharma wheel were part of Indus civilization, and were they connected to perceptions of God?