FEATURE: Apocrypha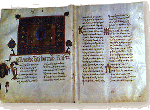 Which early Christian scriptures were left out of the New Testament? Find out in our comprehensive index of New Testament Apocrypha, the largest such collection on the internet.
FORUM: Truth for sale?
Do you think that money can buy you happiness? How about enlightenment? Join our forum to take part in this discussion: Can spirituality really be taught?.